History of Brookwood
Brookwood Station was established in 1895 when Mathias Paulsen (pictured below standing on left) purchased 266Ha from Mr William Nelson. 3 years later he leased 538Ha from Mr H H Russell until 1908 when the leased area was purchased for £14/acre.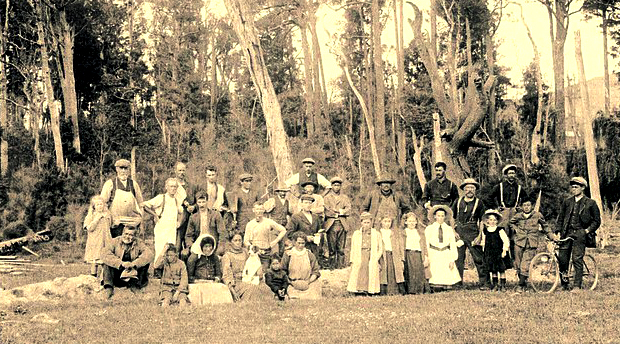 In 1911 a further 148Ha was added. On this block was a woolshed built in 1892. It was relocated around 1910, some 8km to its present site adjacent to the homestead. A 3 bedroom dwelling built around the same time (1892) was also relocated the 8km in 1910. This dwelling is also still in use today. The photos below show both of these buildings on their original site and then in their current locations.

In 1917 the main homestead was built. Mathias died in 1921 and management was undertaken by his son Norman until 1951. Throughout the 1940's and 1950's boundaries were adjusted and land was sold to the crown for settlement of returned servicemen. From 1951 to 1998 Brookwood was administered by trustees and run by managers.
In 1998 Brookwood was purchased by Awassi NZ who used it primarily to breed and grow Awassi sheep for live export to the Middle East
In 2005 the King Family purchased Brookwood from Awassi NZ.